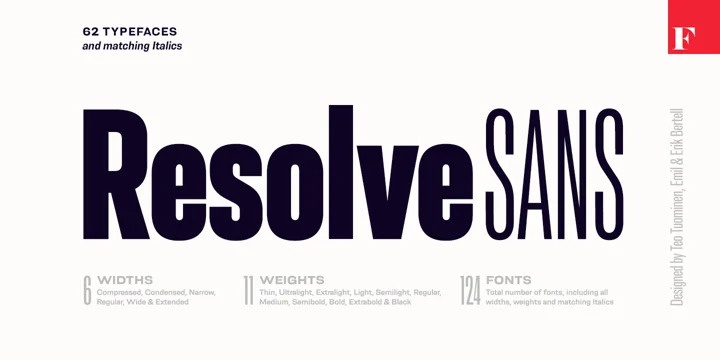 About the Product
Resolve Sans was designed by Emil Bertell, Teo Tuominen, and published by Fenotype. Resolve Sans contains 124 styles and family package options.
One font family to cover it all. Resolve Sans is an extensive superfamily of 124 fonts: from compressed to extended, thin to black.
Resolve Sans Font perfectly balances a universally neutral appeal with a distinct level of sophistication.
Effortless to adapt to any context of use, Resolve Sans is both a workhorse and a display font with impact and flair. As expected, all Resolve Sans fonts come with clever Open Type features such as built-in small capitals and multiple numeral styles.
Product Information
99% OFF – Resolve Sans Complete Font Family
Price

:

Last Updated

:

File Included

:

File Size

:

Compatible With

: