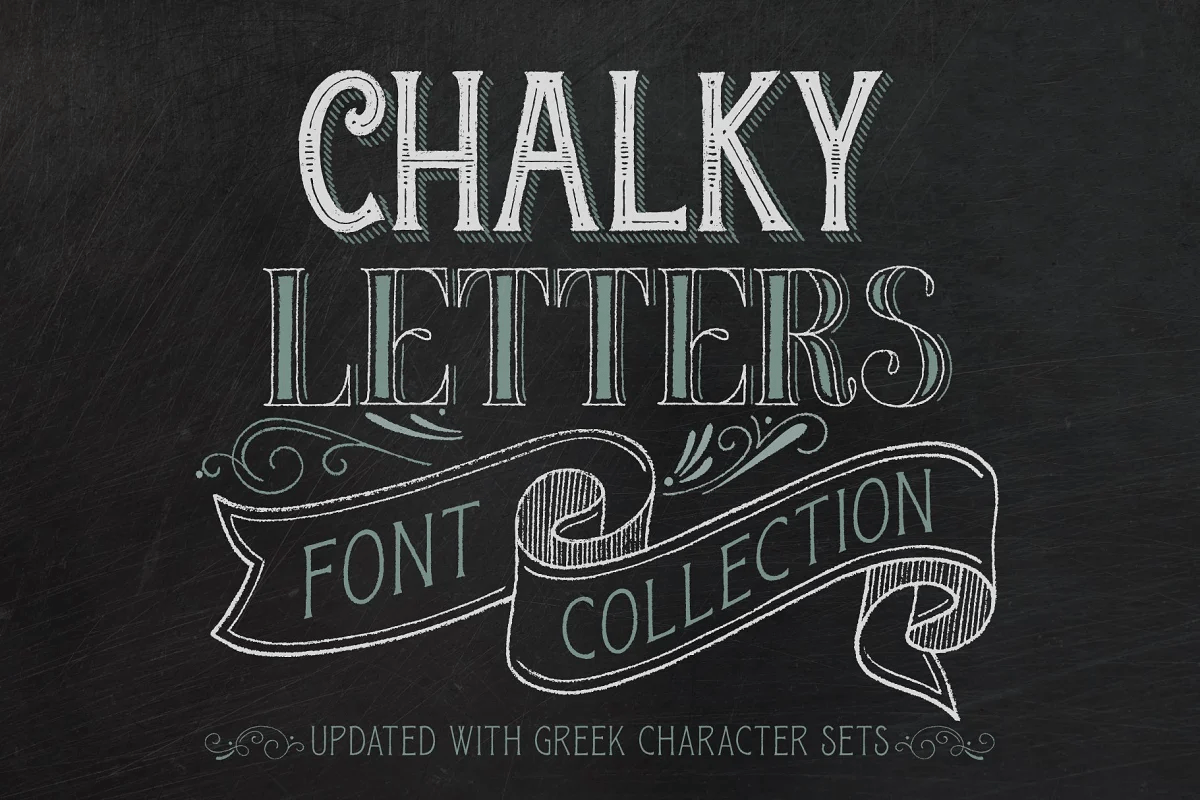 About the Product
Chalky Letters is a multilayered font collection, created for chalk-lettering lovers. Letters and ornaments are carefully hand-drawn to resemble the authentic chalk effect. 4 different vintage typographic styles along with a variety of decorations and shadow effects make endless combinations. The collection gives the designer the freedom to use it in any typographic project he can imagine: greeting cards, labels, large scale prints, branding, packaging, signage, editorial design.
Typographic styles:
Chalky Letters Heading: All caps, old fashioned, serif, with 2 styles of decoration and shadow effects
Chalky Letters Label: All caps, heavy, serif, vintage, solid and outline, with 4 styles of decoration and a shadow effect
Chalky Letters Script: Simple modern calligraphic with terminal forms and 2 alternate styles of descenders. Combined with a shadow effect.
Chalky Letters Note: All caps, simple, thin, old fashioned, with a shadow effect
Chalky Letters Extras: 2 styles of ribbons, frames and ornaments.
The font collection supports Central, Eastern, Western European, Baltic, Turkish and Greek languages.
IMPORTANT NOTE FOR MAC USERS: Chalky Letters have an authentic chalk look, which means they have numerous nodes. They are large files and memory-intensive to use, so occasionally this may generate an error, if you install them with Fontbook. It does NOT mean that the font contains malware or anything that will harm your system. Fonts are safe to install without any corrections of the error, and you will probably never notice any issues when you use the font. Here's what you can do: Install the font manually: Copy either the TTF file to your HD Library Fonts folder
To access the OpenType features, it is recommended to use an OpenType application such as Adobe Photoshop, Illustrator, CorelDraw, Affinity Designer, Affinity Photo.
TIP: In order to achieve a "distressed" vintage style in your artwork, use a dust overlay texture
If you have any question you may send me an inbox message. Thank
Product Information
99% OFF Chalky Letters font collection
Price

:

Last Updated

:

File Included

:

File Size

:

Compatible With

: