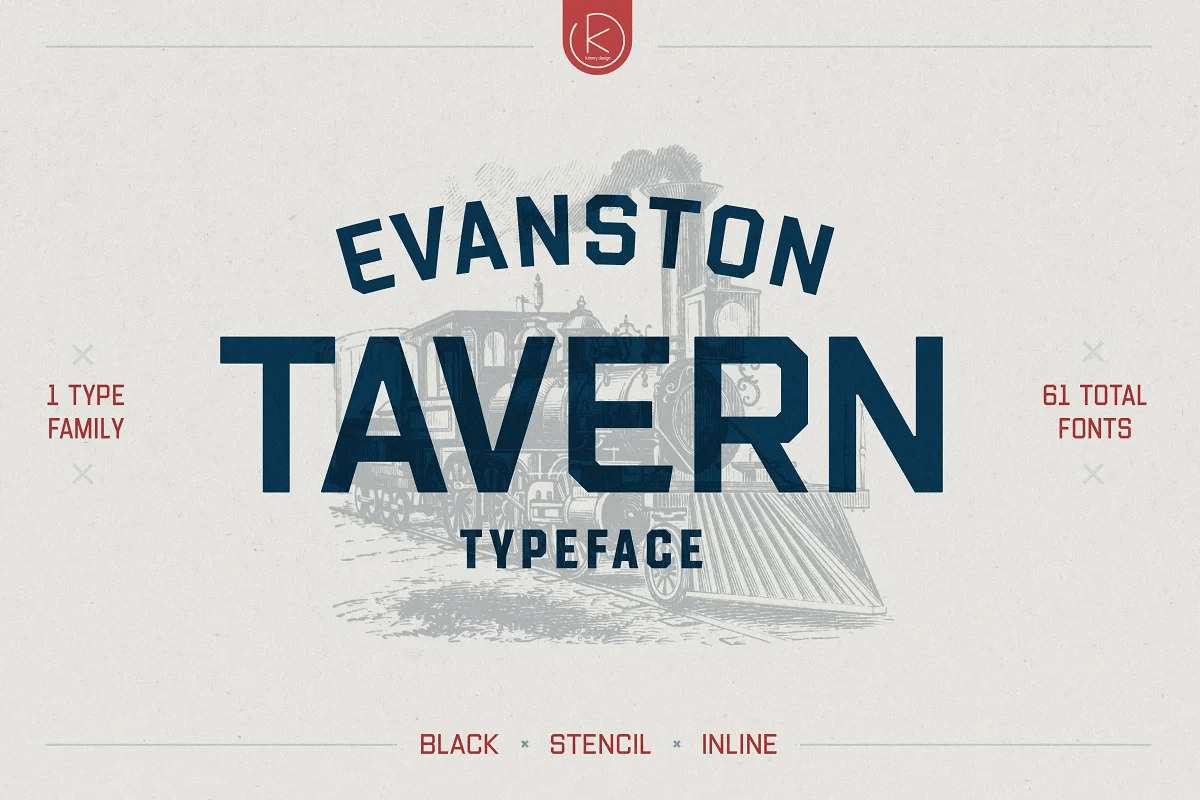 About the Product
Evanston Tavern is the refined sans-serif version to Evanston Alehouse. Inspired by the years that prefaced the ratification of the 18th amendment, this typeface mimics the signage commonly seen outside of saloons, taverns and alehouses.
Back to the modern era, Evanston Tavern is more than just a vintage inspired typeface. It works in modern and futuristic settings as a square sans-serif with multiple styles, opentype alternatives and ornamentation. The family provides a robust 61 total fonts, within it's 3 styles of regular, stencil and inline. Each sub family includes 4 weights as well as 5 widths. It has special features that add depth to the font, with discretionary ligatures and stylistic alternatives. It also includes a complimentary set of ornaments, including a vintage graphic set from the era, as well as modern frames, borders and icons.
PACKAGE INCLUDES SET OF 30+ LOGO MOCK UPS WITH LIVE TEXT! Simply swap out text, change icons and frames to fit your needs. Ornaments come from type family and can be easily replaced and adjusted.
Pair this font with Evanston Alehouse and have a great combination of serif and sans-serif square letterforms and a large array of ornaments!
Here's a snapshot of what you get with Evanston Tavern:
3 Styles: Regular, Stencil and Inline
4 Weights: Light, Regular, Medium and Black
5 Widths: 1826 (condensed), 1846 ( narrow) 1858 (regular), 1893 (wide) and 1919 (expanded)
2 capital Heights: Capitals and small caps
2 Alternatives: Discretionary Ligatures and Stylistic Alternatives
1 Ornaments font with over 100 graphic extras
Product Information
99% OFF Evanston Tavern 61 Font Family
Price

:

Last Updated

:

File Included

:

File Size

:

Compatible With

: